Hi, Welcome all on Fast French Learning, the blog to Learn and Improve your French 🇫🇷 😀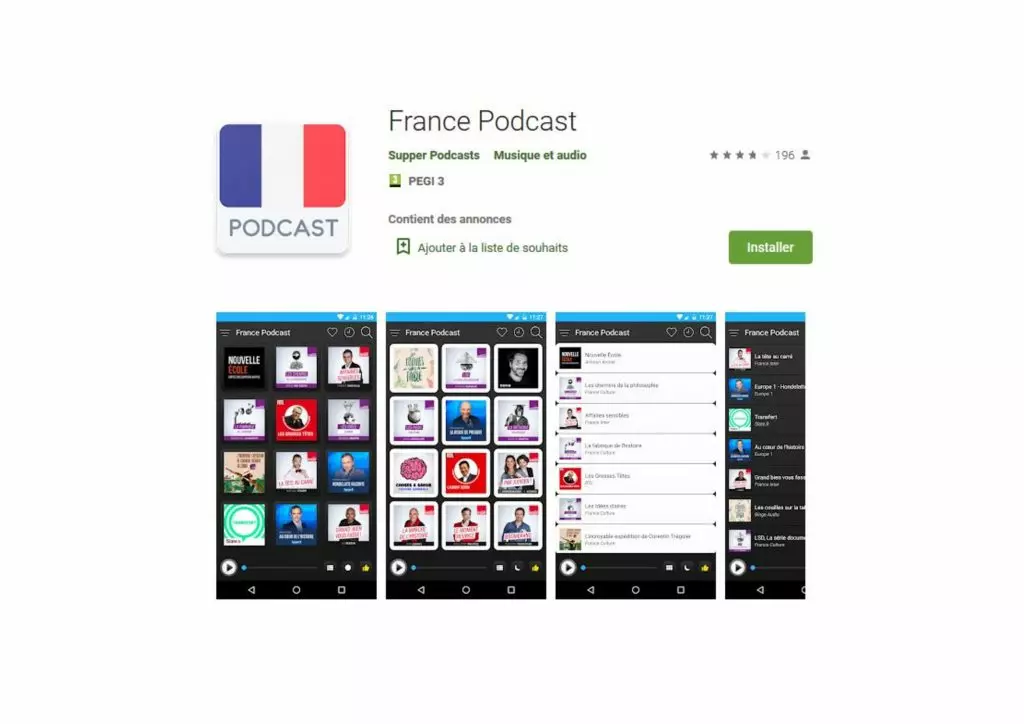 FRANCE PODCAST – ONLINE PODCAST
It is for Android and it is free. You have the choice between several episodes, popular podcasts. Everyday they are updated. It is easy to get the podcats you want, to make your own choice : comedy, storiess,… Enjoy it !
Here are some reviews :
« Good application. Only being in Africa, I would have liked to have podcasts from RFI »

« Useful, functional and very entertaining application … thank you ! »

« Very good application. Thank you so much »

« Excellent app. Nothing to complain about »

« It works very well ! The most would have been that we could link the posdcasts of the same author, without having to select the program each time » « Good reference of French podcast library on the other hand bad intuitiveness of the reader it is very small and you cannot go back or forward in steps of 10 seconds for example which is very practical when you have misheard a passage »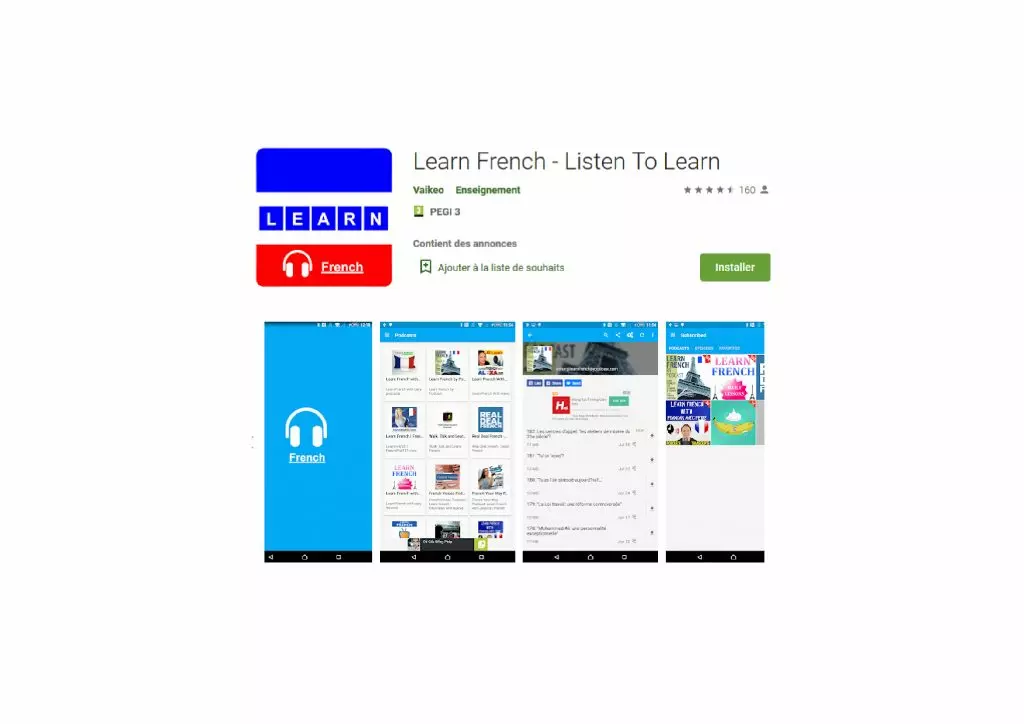 LEARN FRENCH
Learn French helps you to get more listening skills, you are going to learn the grammar rules and you are going to improve your speaking skills with podcasts from website which are quite famous.

You are going to learning the French  language with podcasts. All the courses are composed by audio and transcripts, so you will be able to improve your French grammar, to get more speaking skills and to know more words.
A French professor, she interviews native speakers of the French  language from several countries who talk a little bit of how is their lives and what they love to do during their free time.
Learn and speak the French language.
Getting more and developp your listening skills with French podcasts.
You will study with courses everyday – a few minutes of the French language everyday, three times every week, with professors.
You will get fragment of courses and informations on the French culture, so you will be able to speak the French language in your daily life when you will be in France or in a French speaking country.
You can catch and be a follower of a lot of podcasts. You can download free episodes (MP3) . You can share the podcasts your prefer the most, the parts of chapters your prefer with your friends.
Here are some reviews :
« It is the first app to learn the French language worldwide. I have tried a lot times several app and this the one I prefer »

« The « Learn French with Alexa podcasts » is nice but you have to get access to the internet to be able to  listen to it. I downloaded it and I needed the internet connection to use it »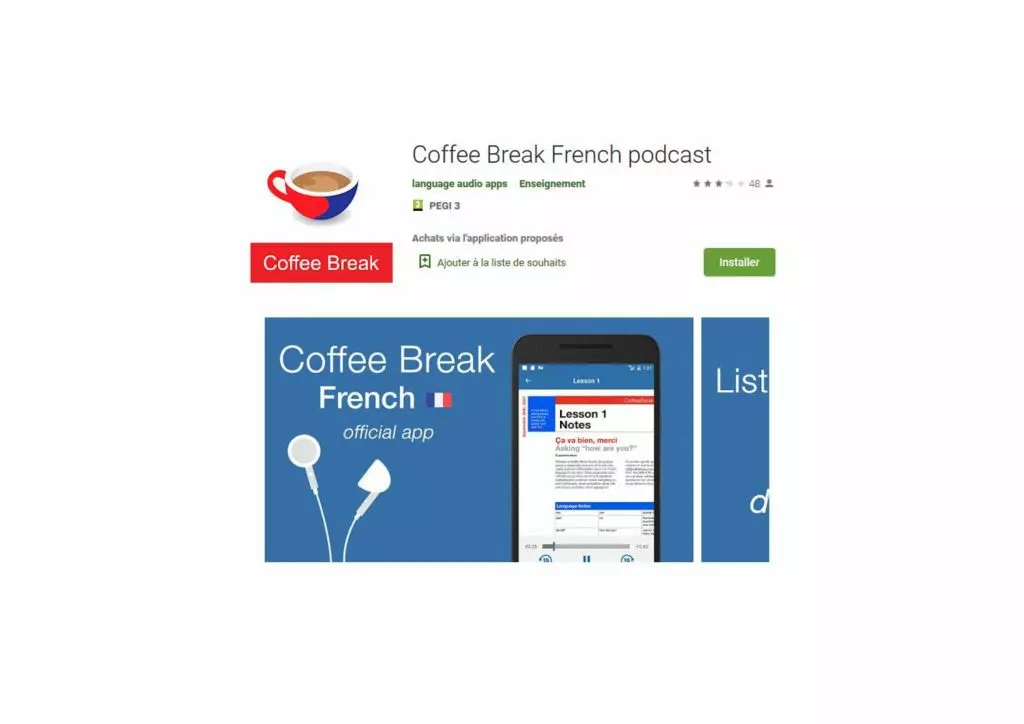 COFFEE BREAK FRENCH
You can use it, listening to it while driving. Taking your French course while you are in the car. Every parts lasts for 15-20 minutes. It gives you audio, videos, courses with texts. You will learn the grammar rules, so you will be able to have some real talks with native French people.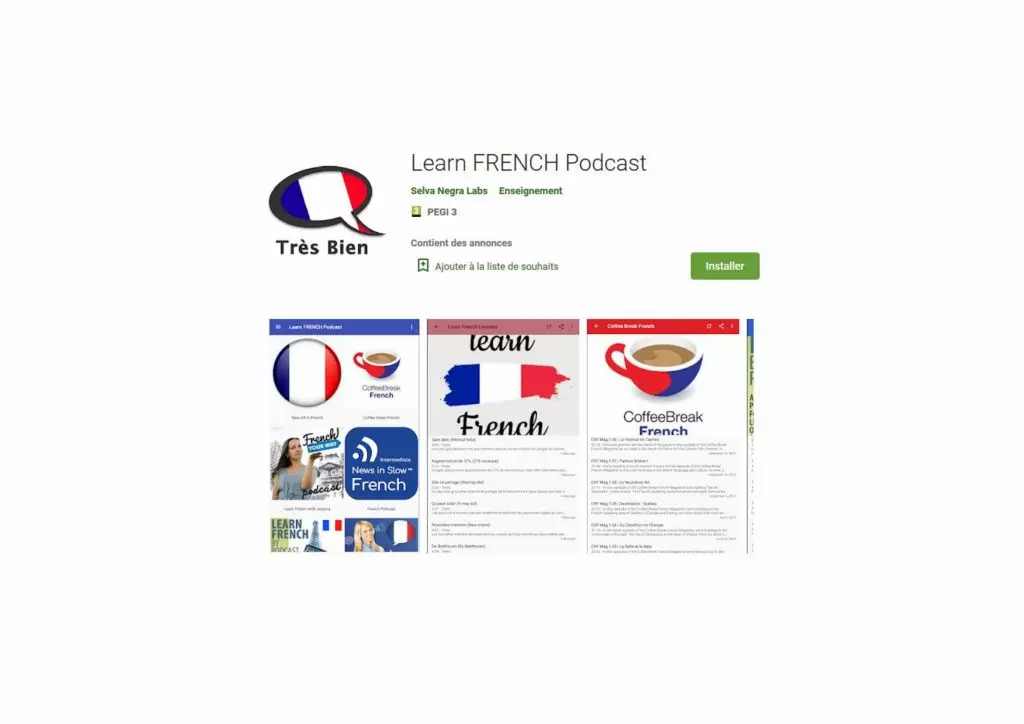 LEARN FRENCH PODCAST
Learn French Podcast comes with a book. The people you will listen to in this podcast are native French speakers. The book contains parts to learn the words, the nouns, the adjectives, the verbs, the sentences. Some phrases are funny. This application is well structured way to look for more informations.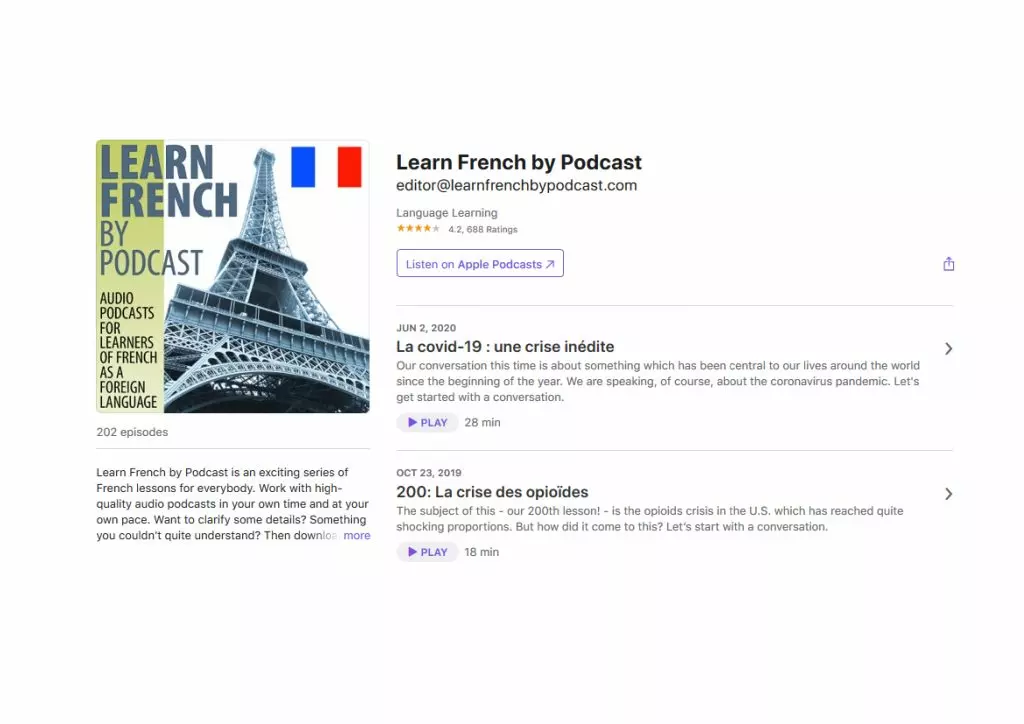 LEARN FRENCH BY PODCAST
You will find a list of French courses for everyone. If you do not understand everything you can download the PDF guides to get to know the small elements.   
Here are some reviews :
« This podcast is nice. The topics are very fascinating. You can learn at a normal rythm, the approach is easy to follow. You are going to listen to what it is said, the commentaries as well, and the you are going to listen one more time. When I listen to it for the first time I uderstood a bit more than half, the next time I understood more. It is in the French language and in the English language, I appreciate it because sometimes I do not know what language I am listening to. My mother tongue is Italian, I studied the French language many years ago and I spoke almost fluently, but I did not speak for years so now I want to refresh it. Thus podcast is really helpful for me ! »   

« It is definitely what I wanted to study the French language. You will listen to academic discussions for newbies and advanced people. It gives a big list of words, and the topics you can choose to study are good and instructive. The translations help you to put the word in context which is very helpful to learn the French language fastly and efficiently »  

« Thank you very much for this very nice approach, I love it, it is amazing. The talks are practical, inventive, I love the way it is thought, with a lot of different expressions, grammar rules, different types of discussions, so you will speak the real French language »   

« I have learnt the French language at school and afterward I have learnt the French language by myself. This app is a nice  approach to brush it up, to get more listening skills. The discusions are interesting and rthey talk about ongoing subjects. I suggest you strongly to use it only if you have an intermediate level. It should be difficult for newbies to follow it, if you do not get the PDF file. I do not have it but I will do everything to get it soon »
🇫🇷++++++++++++++++++++++++++++++++++++++++++++++++++++++++++
Beginner : guide to learning French for beginners for lessons, vocabulary
🇫🇷++++++++++++++++++++++++++++++++++++++++++++++++++++++++++
🇫🇷++++++++++++++++++++++++++++++++++++++++++++++++++++++++++
Learn French conversation for pronunciation, vocabulary, lessons
🇫🇷++++++++++++++++++++++++++++++++++++++++++++++++++++++++++
🇫🇷++++++++++++++++++++++++++++++++++++++++++++++++++++++++++
Beginner, learners : how to learn French in 3 months for lessons
🇫🇷++++++++++++++++++++++++++++++++++++++++++++++++++++++++++
🇫🇷++++++++++++++++++++++++++++++++++++++++++++++++++++++++++
Learners : learn French fast and easily for pronunciation, lessons
🇫🇷++++++++++++++++++++++++++++++++++++++++++++++++++++++++++
🇫🇷++++++++++++++++++++++++++++++++++++++++++++++++++++++++++
Teacher, students : learn French in 30 lessons with flashcards vocabulary
for flashcards
🇫🇷++++++++++++++++++++++++++++++++++++++++++++++++++++++++++
To become a fan click on the links :
Thank you for reading this article !
Thomas 😀
Explanations,  expressions, flashcards, listeners, listeners, resources, resources, subscription, subscription, transcripts, variety, variety, comprehension, comprehension, conversations, conversations, explanations, students, teacher,