Hi, Welcome all on Fast French Learning, the blog to Learn and Improve your French 🇫🇷 😀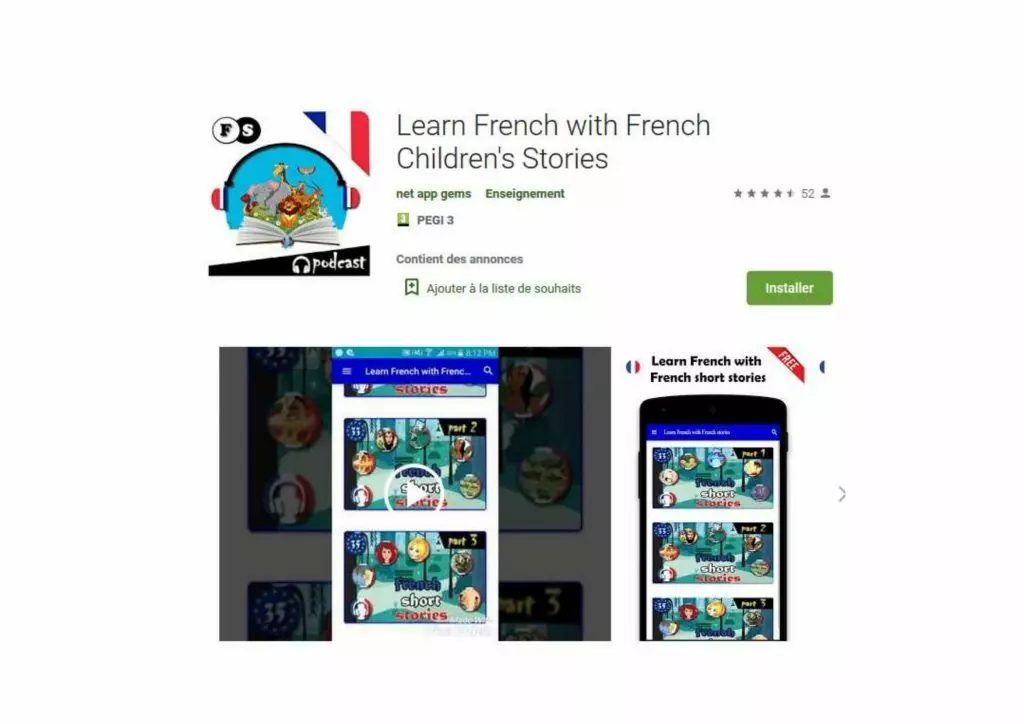 Learn French - Beginners Stories: Interlinear French to English (Learn French with Interlinear Stories for Beginners and Advanced Readers Book)
Do you want to learn the French language with French stories for people who have never learnt previously ? Is this the firs time for you ? These stories make it easy to do. It is free. You have access to 110 French stories for new pupils. It provides as well a list of words, so you will be able to understand the conteny, you will find the French words and their translation into English. You can improve your skills in speaking French and increase the number of words you know. While you are learning a foreing language (the French language for you) you are discovering a new culture, it will make your experience of life richer. Reading stories is a very good way to learn a new language, short stories are very nice to do it. These short stories takes place in different situations that you can experience in your daily life : travelling, relations,... and more topics that you can easily relate to your life. The stories are divided into parts so you can easily go through them. You will find a lot of conversations in every stories, you will able to use these kind of conversations. So, you wil be better at speaking and understanding. You will find and read at the end of each part, a list of word which are taken in the story, so you will see if you understand everything. It comes with an audio.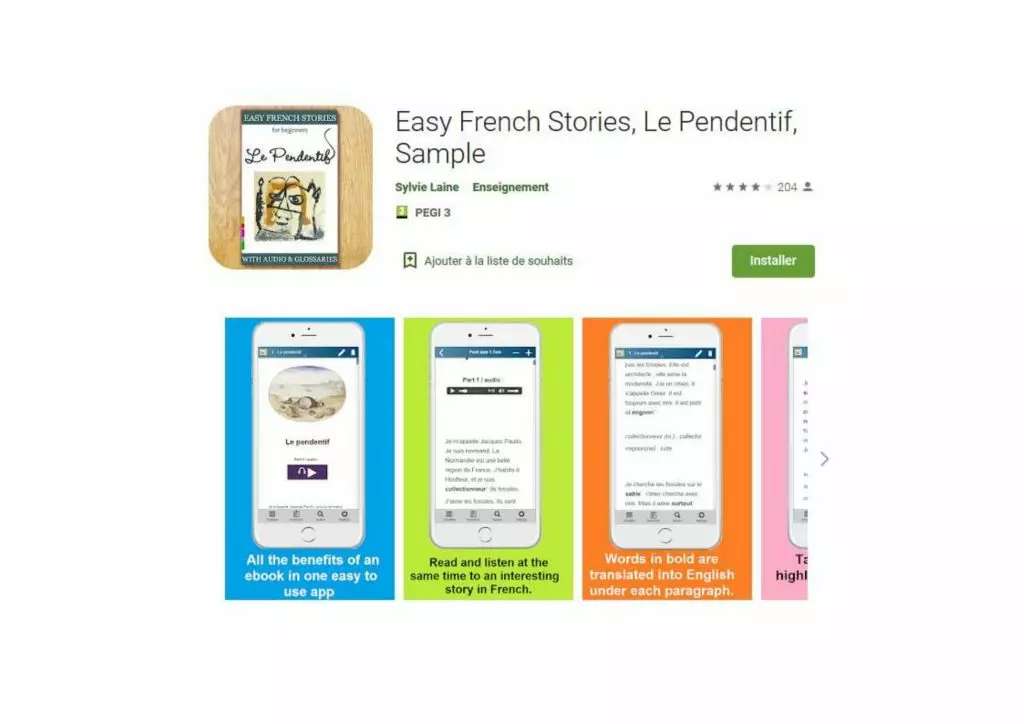 With this application you are going to read and to listen to short stories, it is a nice way to learn a foreign language (in this case, for you this is the French language). You will find several short stories, these ones are easy to reads, so you are going to increase the number of the words you know, and also you are going to get more comprehension skills. Every stories that you will find in this application contains words that you can easily use in your daily life when your are talking to someone. It is not necessary to use a dictionnary. There is a glossary related to each story, made with some French words and sentences and their translation into English.
This audiobook contains :
A list of words that you can easily use in your everydeay life. 1 500 words and expressions from the French language.
A list of French and English words related to each piece of text. So you will not need to use a dictionnary.
You will listen to conversations with French words and expressions you can hear a lot in your everyday life. So, you will learn conjugation and grammatical rules easily.
At the end of it there is a dictionnary that contains many words that you ca find in the stories with the gender of the words and the transcript into English.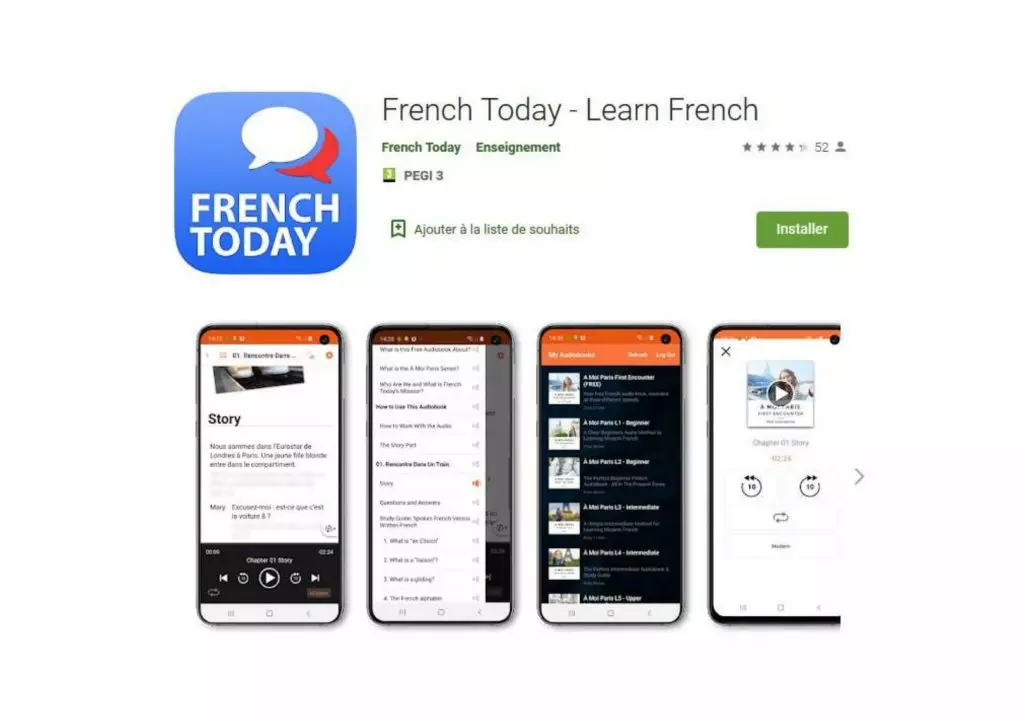 To learn the traditional and modern French. It contains a list of words with their transcript and meanings for the people who speaks English. So, you are going to learn some things that you are going to practice then, with conversations and specific situations. Someone said « I found a method that teaches the true French ! » With this application you will learn the French language that the native French people use in their everyday life.
What is the method of French today ?

It is easy to use for the English speakers. It is designed to be able to communicate easily in French. You can listent to the audio with different spead, so you can choose the speed which is ok for you to begin and then to choose another one to get more skills.
What are ther characteristics of the free version of French today application ?
It comes with 2 free French audiobooks : 6 hours of recording.
You can use it offline, you do not need to have access to the internet.
You can read with the transcript.
There is a specific mode, you can use it while driving.
Here are some reviews :
« With the French today application I get more confidence. Now, I am able make right sentences, to choose the right words to say what I want to say, with the good pronunciation. Now, I fell good about speaking the French language on my next trip to a French speaking country ».
« I am happy to study with this application. If I had it earlier my French would be better eariler in my life. I love the fact that I can choose the speed of the talks... »
« It is a very good purchase for people who wants to understand the daily French talks. This is the only thng like this I found among all the applications. It is a product of quality ».
You can easily learning French with many daily dialogues. The courses are divided into several topics, it helps you to be better at understanding and speaking the French language.
You will find conversations that you can have in your daily life. This application helps you to get more listening skills, to be better at oral practice, and making the right questions and answers in your daily talks.
You can use it offline, you do not need to have access to the internet to enjoy it.
Everything is in French and English almsot everytime, so it is very easy to use. It is user-friendly.
Here are somes themes :

- Vous êtes ?
- Quel est votre … ?
- Verbes en -er
- Verbe avoir
– la quantité
- Situation dans l'espace
- la visite de la chambre
- Au restaurant (articles)
- Devant la machine à café
- Articles partitifs
- Se présenter : dialogue 1 (vous)
🇫🇷++++++++++++++++++++++++++++++++++++++++++++++++++++++++++
Learn French offline phrasebook apk babbel for app, lessons, vocabulary
🇫🇷++++++++++++++++++++++++++++++++++++++++++++++++++++++++++
🇫🇷++++++++++++++++++++++++++++++++++++++++++++++++++++++++++
How to learn and memorize French vocabulary for learners, memory,
vocabulary
🇫🇷++++++++++++++++++++++++++++++++++++++++++++++++++++++++++
🇫🇷++++++++++++++++++++++++++++++++++++++++++++++++++++++++++
Learning time in French for learners, lessons, vocabulary
🇫🇷++++++++++++++++++++++++++++++++++++++++++++++++++++++++++
🇫🇷++++++++++++++++++++++++++++++++++++++++++++++++++++++++++
Students : the accelerated learning French system for pronunciation,
memory
🇫🇷++++++++++++++++++++++++++++++++++++++++++++++++++++++++++
🇫🇷++++++++++++++++++++++++++++++++++++++++++++++++++++++++++
Participants, students : French learning whatsapp group for app
🇫🇷++++++++++++++++++++++++++++++++++++++++++++++++++++++++++
To become a fan click on the links :
Thank you for reading this article !
Thomas 😀
Acquisition, acquisition, exposure, exposure, foundation, foundation, humans, humans, memories, memories, participants, scientists, scientists, stimulus, stimulus, writer, writer,  speakers